If you tuned in last time you know we are working on our only full bath in the house. Sometimes you have to work with what ya got. That is the case regarding the size of our small bathroom. It can have it's bad points but there are good points to. I hate cleaning the bathroom but with such a small space it does take less time and it takes less material to change things up which is helping us watch our expenses as we go forward. That is a huge consideration as we had to sure up joists and replace the sub-flooring. But all that got done and we got to move onto the in-floor heating!
After some research we decided use to
Quite Warmth heating mat products
. Part of our decision was the easy to follow and thorough videos that gave a clear picture about installation. I found their products on Amazon and had them sent directly to my house; a plus during quarantine. (I've included links to Amazon under each photo.) If you are going to put in in-floor heating you will need underlayment, a heating mat, and a thermostat. Another reason we chose this product is because it is designed to use under luxury vinyl plank flooring which is what we are installing in the bathroom.
The first step is to measure how much matting you will need and order accordingly. There are guidelines concerning where the mat should be. It is not to sit under cabinetry. It is not to be installed too close to the toilet as the heat could effect the wax ring, melting it and causing your toilet to fail. (Bad!) I told you our bathroom was small. The actual size is 6'8" x 7'3". That includes the tub area. Total floor space is less than 35 square feet. With all the considerations we figured that we needed a mat that is only 3 feet by 3 feet.
Step 1) Clean the floor. Any debris will become a permanent reminder of your failure to prepare.
Step 2) Install the underlayment. This is literally a matter of rolling it out and if needed, taping seams. the product has a built in system to tape seams. How easy is that?
Step 3) Installing the mat. The mat we ordered is 3 feet wide and we cut the excess off, per the instructions, and installed. I'll not bore you with the details as
the video is an excellent source
. We're not having to do anymore than one run of the mat due the size of our space.
Step 4) Tape down the leads to the mat that will be attached to the thermostat. This will require you to cut small channels in the underlayment. (Refer back to video.) And tape everything down so it doesn't wiggle out of place. Anytime you get to use duct tape is a WIN for Mister! (I think it's a guy thing.)
Step 4) Thermostat. Mister connected the wires to the new, totally programmable, thermostat that we installed on the wall where the waste chase is. This thing is amazing! It allows us to program the heating according to time intervals. For instance, we can set it to heat up to a nice and toasty temperature for when Mister gets up in the wee hours of the morning to get ready for work and then drop down until I take my shower a few hours later then back down again until the evening for other members who shower before bed. It's programmable for every day of the week so if your weekend schedules are different-no problem.
Once we were sure that was installed and working correctly we started the installation of the flooring. Again, a little research led us to a product available at Home Depot.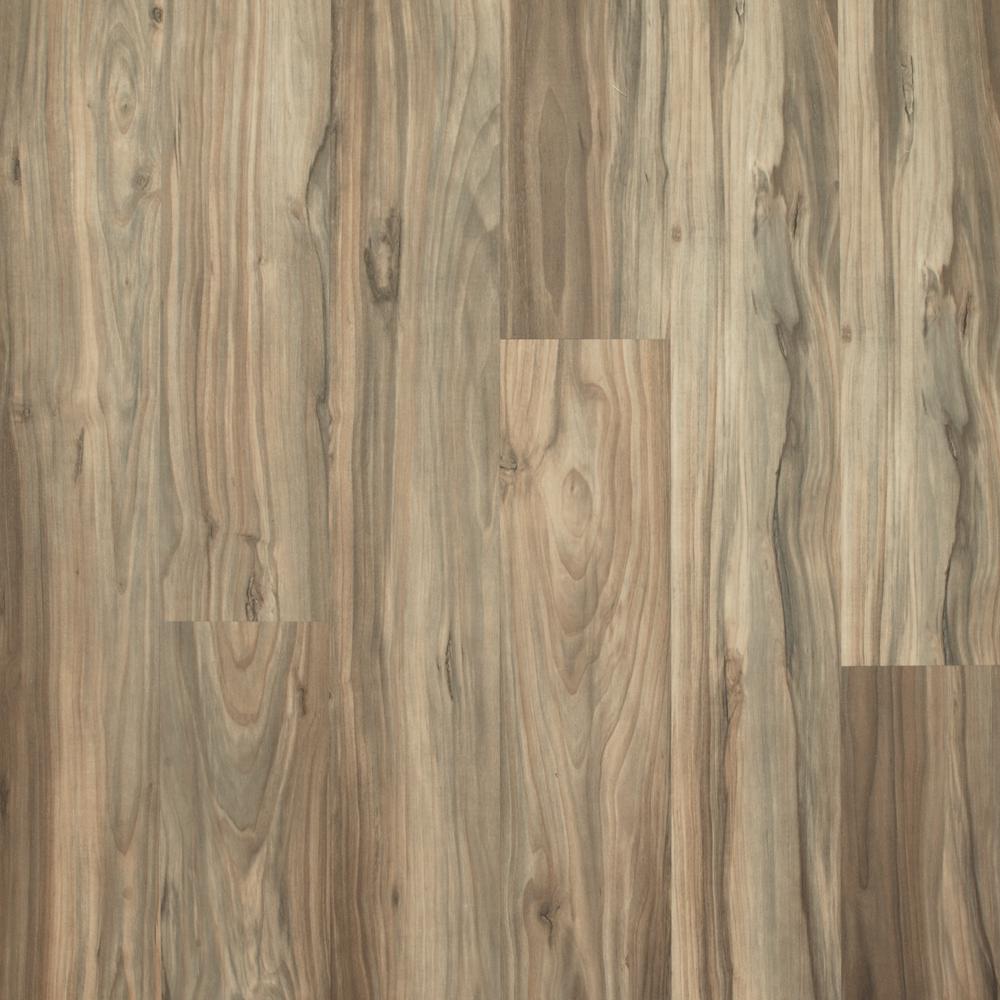 (Source)
The flooring is called Lifeproof. It is waterproof and scratch resistant. Again, a video or two helped us to see the installation process. This stuff is waaaay easier than tile and real wood flooring and looks great. The flooring I chose is a wood look product. It is textured to resemble wood. You simply score the flooring and snap at the score to cut it. (
This video shows how to cut the product.
) Mister did have to use the table saw for a piece or two to rip them down on the width to fit our space.
A word on the installation.
Pay attention to the placement. You don't want to easily see repeat patterns. If a piece has a "knot" make sure that the next time you see that same knot it is not in line with the last one and not too close to the last one. Also,
stagger the seams
. You don't want to see a line of seams. Some may chose to do a brick-like pattern and while this looks great with bricks a wood floor is usually not the place to have an "H" pattern.
Our project took 2 1/2 boxes of product. We had purchased 4 to be sure we had enough and to take into consideration any damaged product. That is a reality and you want to be prepared and not have to stop everything to run back to the store hoping they have more. There were 3 pieces that were damaged but we were able to cut those pieces and used them for ends. I have a plan for a little bit of the leftovers, too.
And, voila. Flooring! I am over the moon with the colors and the feel, and the heat! The warm tones mixed nicely with a little of the cool grays but the warm toes are real treat. The edges will be covered with baseboard and colored caulking.
Okay, now some of the practical but pretty things start happening! And, true to fashion I made a drawing to keep myself focused. Stayed tuned to see how close I can come to this!
Linking to these parties: