I am a beach girl. Not sure why, or how it happened. I didn't discover that about myself until I was well into my.... well, let's just say I was older. Perhaps it was the time I spent as a kid at Hickam Air Force Base that planted that seed deep down in my DNA. Now, I know there are some who prefer lake-life and lakes are beautiful in their own right but for me there is just something awe inspiring about the ocean. There are others who hate the summer and the heat, preferring the spring or fall and both have their good points but oh, the warmth of the sun on the skin and the smell of sun lotion! Then there is winter.... I got nothin'. Honestly, it is so far from my mind right now that we'll just not talk about that right now.
Summer is the perfect time for the beach but I love the beach year round. You'll constantly hear me say things like "a foggy day, (rainy day, cloudy day, windy day) at the beach is still a day at the beach". It is my happy place. It is a time to clear my head and my sinuses. It is where I feel small next the the expanse of water before me. It is where I notice the small things like the bazillion grains of sand, tiny crabs, little fish, beach glass and sandpipers. It is where I see the faithfulness of God and contemplate His provisions and promises.
A few months ago I was blessed to spend some time with sisters God has purchased for me through Christ. (*I didn't grow up with sisters and didn't go away to college so this is a relatively new experience for me.) We were celebrating the birthday of one of these beautiful women. As a treat we got to spend it at a beach home nestled in what was an old Portuguese fishing village in Tiverton, Rhode Island.
While this was not set on the open ocean it did boast water views along the Sakonnet River that leads to Newport and the Atlantic Ocean. The minute we walked in the door we all gave out a huge exhale of content mingled with relief because sometimes you're just not sure if the rental is going to match the photos on the website. This place did not disappoint!
We were greeted with a beautiful table set with a charcuterie board filled with local treats and prosecco.
Um...yes, please!
Fresh flowers and live plants were scattered throughout the home.
White slipcovered furniture and warm blankets to cuddle up with begged us to sit and talk.
The master bedroom and ensuite took up the entire top floor with a huge window that led to a deck and sitting area which provided views of the water. A board and batten feature wall serves as a headboard. White linens and an overstuffed club chair make this a true retreat.
Two smaller bedrooms were dressed with luxury linens in crisp, cool whites that beckoned me to jump in and snuggle down... and shiplap!!!
Each bed was adorned with a guest basket filled with fluffy white towels and slippers. Our hostess was mindful to place a black washcloth in each basket for women to use to remove their makeup, so smart!
The owners bought this property as a rental. They did all the work themselves. Here's a before photo.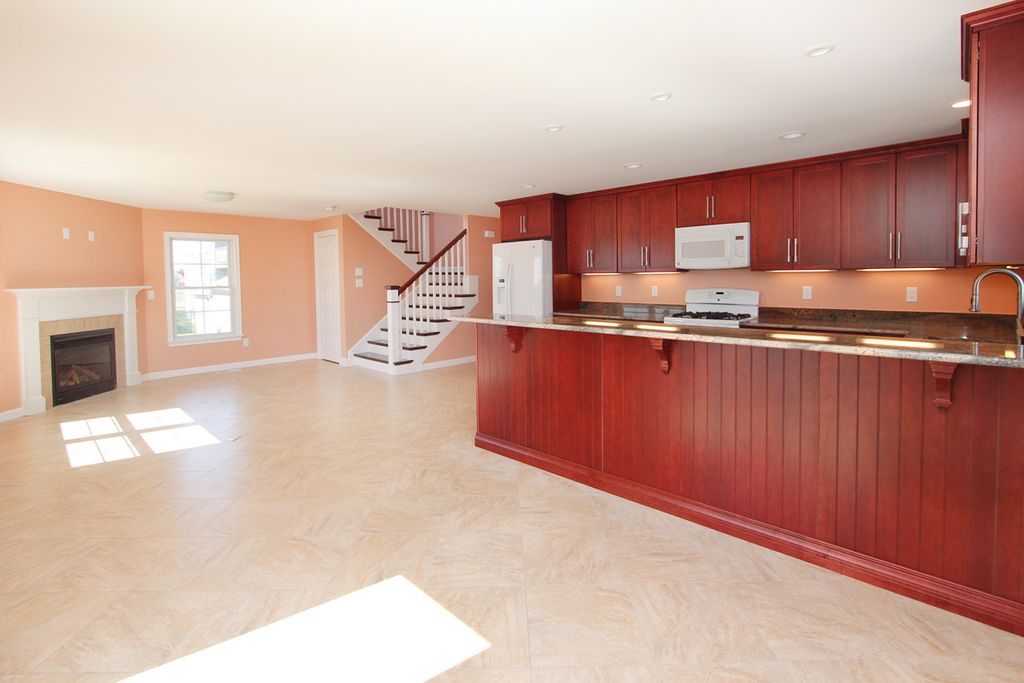 You'll hear me say this a lot; never underestimate the power of paint! I know many decorators are saying that the grays are going out of style but at the beach I think the combination of grays and whites is timeless.
(
Photo take from VRBO listing
)
Our host and hostess stopped by to meet us and invited us to their other home on the next street over. (Who does that!? Nicest people!) It is a smaller home, 750 square feet. I believe they will be renting that one also at some point. I fell in love with this space. It does not feel small at all. It is an excellent use of space, color and glass.
before photos
after photos
brilliant way to hide the tv
The weather was not "great", drizzling the day we arrived and and overcast and cool when we visited Carolyn's Sakonnet Winery and Tiverton Four Corners for shopping.
I grabbed my camera and headed to the beach.
We joked about a blog post and how it may mean we never get to stay here again if it gets too popular. It is a beautiful, quiet location and we left feeling rested and blessed.
As I said before there are somethings you shouldn't underestimate; a can of paint, a good cup of coffee....,
and drawing near to the God who delights in giving His children good gifts.
The Salt Marsh Beach House was a such a beautiful treat. I would highly recommend a stay. You can find their listing
here at VRBO
. *Tell them you heard about it here!
Thanks for spending time with me. I hope your summer provides you opportunities to enjoy the beach, lake or whatever provides you those times to relax and enjoy the world around you.
* An after thought.
Linking up to these parties:
Shabby Art Boutique
,
The Cottage Market
,
Finding Silver Pennies
,
Create With Joy
,
Pieced Pastimes
,
DIY Showoff
,
The Painted Hinge
,
Ducks 'N A Row
,
The Dedicated House
,
Lou Lou Girls
,
Our Mini Family
,
Marilyn's Treats
,
The How To Home
,
Our Home Away From Home
,
April J Harris